Health and well-being of Hutterite farmers in Alberta: results from the Sustainable Farm Families Alberta program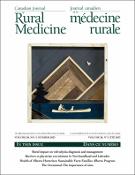 Abstract
Introduction: This article describes the health and lifestyle profile of Hutterite farmers in Alberta who participated in a health literacy education program. Methods: Longitudinal quantitative and qualitative data from the sustainable farm families (SFF) Alberta program (2014–2017) were used to describe the health and lifestyle profile of Hutterites. Data were analysed using descriptive statistics and conventional and summative content analysis. Results: Four hundred and twenty-seven Hutterite men and women aged 18–75 years participated in a health literacy education program. About 50%–80% of Hutterites reported good health status, no hearing or sleeping problems, little to no body pain, fewer breathing and bladder difficulties and no constipation/diarrhoea. On average, the risk of diabetes was low (mean = 3.4) with total glucose (mean = 5.2) and cholesterol (mean = 3.5) within normal levels. Mental health outcomes such as anxiety (mean = 4.1), stress (mean = 6.7) and depression (mean = 3.1) were also within normal to mild ranges. Qualitative data showed that Hutterite farmers are committed to maintaining physical health and adopting strategies to improve mental health and lifestyle behaviours. Conclusion: Hutterites have recognisable health challenges like other rural farming communities but are aware of their physical and mental health challenges and engage in healthy lifestyle behaviours. The Hutterite tenets of living present a perfect ecological setting for sustainable health promotion intervention.
Description
Open access article. Creative Commons Attribution-NonCommercial-ShareAlike 4.0 license (CC BY-NC-SA 4.0) applies
Keywords
Hutterites
,
Physical health
,
Sustainable farm families
,
Health promotion programs
,
Healthy lifestyle behaviors
Citation
Adandom, H. C., Ofori-Dei, S. M., & Hallstrom, L. K. (2023). Health and well-being of Hutterite farmers in Alberta: Results from the Sustainable Farm Families Alberta program. Canadian Journal of Rural Medicine, 28(3), 123-130.
Collections