Process and relationship: a walking-dialogue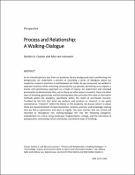 Abstract
As an interdisciplinary duo from an academic library background and a performing arts background, we underwent a process of recording a series of dialogues about our respective research practices in and between our fields. As we conversed, we walked in separate locations while remaining connected by our phones, permitting us to explore a kinetic and spontaneous approach as a mode of inquiry. An experiment and intended provocation to demonstrate that, just as there are other ways to research, there are other ways of knowing, generating, and presenting ideas that articulate the value of alternative methods within the academy, specifically within the realm of arts-based research. Troubled by the fact that what we perform and produce as research is not easily sanctioned as "research" within the library or the academy, we discuss what it is about these arts-based methods of experimentation, creation, practice, and knowledge-seeking that we find so generative and value so highly. The main themes that we circled and returned to throughout this walking-dialogue fell into the following categories: embodiment on a local, living landscape; fragmentation, collage, and the interstices of juxtaposition; unknowing, failure and doubt; and diverse ways of knowing.
Description
Open access article. Creative Commons Attribution-NonCommercial 4.0 International license (CC BY-NC 4.0 DEED) applies
Keywords
Research practices
,
Arts-based research
,
Knowledge-seeking
,
Ways of knowing
Citation
Cowan, S. A., & van Leeuwen, M. (2023). Process and relationship: A walking-dialogue. Journal of Critical Library and Information Studies, 4.